Watch Video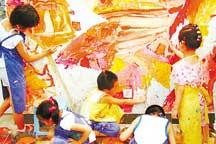 Play Video
One more place for kids who love painting! In this summer vacation, the National Art Museum of China is inviting children not only to watch, but to draw.
At the commemoration exhibition dedicated to the late artist Wu Guanzhong, young visitors are encouraged to draw their own understanding of Wu's works.
In the corridor outside the gallery, a 10-meter long canvas is prepared for children to do some random painting. With their wild imaginations, children are drawing plants that are half green, half pink, a combination of sun and tree in their eyes.
And the paint brush is not the only tool used for self-expression. Little dancers from Beijing Dance Theatre also came to look for inspiration. They will use body postures and dance movements to express their insights.
Wu Guanzhong's students also come to play with the kids. They answer questions, help them with their painting, and encourage them to draw their thoughts.
Zhao Tianxin, painter, said, "Providing children with an education in aesthetics is very important. It helps them to inherit the culture. I'm very happy to be part of this."
Firmly believing in children's imaginations and their natural gifts, the National Art Museum of China organizes such events to give kids an opportunity to get in close touch with art.
Once the seeds are planted in their hearts, further care is needed for their future growth.
Editor:Liu Fang |Source: CCTV.com