Watch Video
Recently, in north-eastern China's coastal city of Dalian, a group of young performers staged a concert with traditional Chinese instruments made of crystal.
Now, let's see how these performers are presenting Chinese traditional music in a modern way.
The 10 members of the Crystal Band are all ladies aged between 20 to 30. They are trying to redefine the traditional music by using the rare instrument and their dynamic body movement.
Huang Zijiao is the group's organizer. He says they have invested a great deal of money to invite master craftsmen to make the instruments out of crystal. One of the fascinating features of the performance is that the color of the instruments change according to the lighting, stage background, and performers' costume.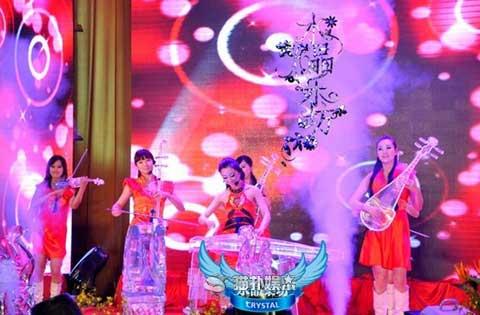 Performance of Crystal Band
Yang Yang, performer of Crystal Band, said, "On one hand, the instrument can visually satisfy the audience. On the other hand, sometimes, when we are rehearsing with the expensive instruments, we are afraid of scraping them. So, we are very careful with them and treat them with tender loving care."
Huang Zijiao, organizer of Crystal Band, said, "Through the crystal instrument, we want to play some pure music and convey to the audience a sense of serenity and peace."