Watch Video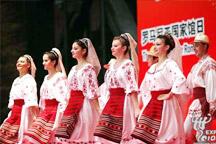 Play Video
Thursday marks the pavilion day of Romania at the 2010 World Expo. Romanians are showing their green cities and green life in the big green-apple-shaped pavilion in Shanghai. Now let's take a closer look at this European country that resists classification.
The design of the Romania Pavilion is inspired by the apple, the most popular fruit in Romania. And of course, the CORE concept evolves around the environmental implications of "green." Inside the big green apple, details of the green life have been displayed to some 2-million visitors.
And life in Romania wouldn't be complete without music. Authentic folk song and dance is staged every day for visitors from around the world.
Romania has a unique culture, a product of its geography and its distinct historical evolution.
Like Romanians themselves, it's fundamentally defined as the meeting point of three regions: Central Europe, Eastern Europe, and the Balkans. But the country cannot truthfully be included in any of them. The Romanian identity formed on a substratum of mixed Roman and quite possibly Dacian elements with many other influences.
In spite of its modern development, Romania still keeps alive a variety of folk arts, customs, and traditions.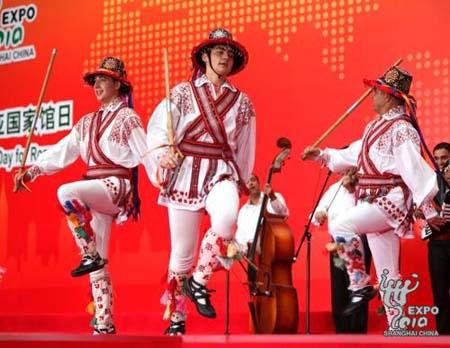 Performance at the ceremony
Anna Maria, Staff, Romanian Pavilion, said, "Sewing and weaving is a basic skill for villagers in Romania. Even today, girls in my village maintain the tradition of learning to sew and weave. Most of the girls start learning embroidery and help their moms at an early age around 6 or 7 years old. They can make their clothes beautiful with their own hands using various types of embroidery. The better they sew, the more optimistic they are towards life."
With a surface area of more than 230-thousand square kilometers, Romania is the largest country in southeastern Europe. The Danube flows into the Black Sea within Romanian territory, forming the Danube Delta, the second largest and best preserved delta in Europe. It's also a biosphere reserve and a biodiversity World Heritage Site. The country's natural beauty and the urban development are also highlighted at the Romania Pavilion in various ways.
And Romania doesn't miss the chance to show of its gourmet dining. A restaurant on the second floor of the pavilion brings traditions alive. Visitors there can taste traditional Romanian food while watching a film montage showing the country's rich culture.