Watch Video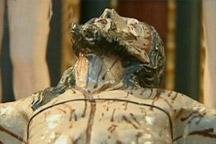 Play Video
From South America, we travel north to Central America where there's been some news regarding Mexico's immense artistic legacy. The Anthropology and History National Institute in Mexico City has displayed an important collection of recovered art. In all, the Institute showed 14 pieces of colonial religious art and 180 pre-Hispanic pieces.
Some of the artifacts found are fake, but others are very important and have an outstanding pictorial quality, according to the spokesperson of the Institute.
Authorities say the majority of the artifacts, sculptures and paintings were originally stolen from churches in the states of Puebla, Tlaxcala and Hidalgo. They were found at an art gallery in the state of Jalisco.
They were said to have been bought illegally, either on the black market or by using fake paperwork to make them appear as though obtained legally.
Some of the pre-Hispanic pieces were found at a warehouse located south of Mexico City.
Among the items seized were paintings and sculptures dating from the 16th, 17th, and 18th centuries, and pre-Hispanic artifacts from the Maya, Olmec and Toltec cultures.
According to a catalogue created by Mexico's Attorney General Office, despite efforts made by local authorities, at least 400 pieces of religious art from the colonial times have been stolen from Mexico.
Editor:Yang Jie |Source: CNTV.CN