Watch Video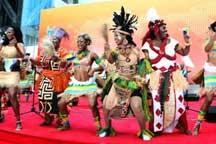 Play Video
"We come from countryside and go for cities. Explored and accomplished, we will return to the countryside". This is the motto of the Gabonese people and is based on the concept of complete urban-rural integration.
Only half a month before the country's 50th anniversary of independence, Gabon celebrates its National Pavilion Day at the World Expo in Shanghai on Friday.
Indigenous ritual singing and dancing opens the National Pavilion Day of the Equatorial country. Gabonese music is lesser-known in comparison with regional giants like Congo and Cameroon, yet it still boasts a variety of folk styles.
With a display of five aspects including residential architecture, workplace, transportation, culture and environment and its protection, Gabon Pavilion showcases how the country practices and develops the concept of "complete urban-rural integration". Visitors can also learn about the remarkable contributions the Gabonese people have made to balancing development between traditional and modern civilization.
Straddling the equator, Gabon is located on the Atlantic coast of central Africa. It has an equatorial climate with an extensive system of rainforests covering 85 percent of the country. This feature, along with savannahs, mangroves, lagoons and beaches makes it an ideal habitat for various species of animals and reptiles.
The earliest inhabitants of the area were Pygmy peoples. They were largely replaced and absorbed by Bantu tribes as they migrated. A typical shelter of the Pygmies made with a special kind of leaf found in Gabon, is displayed in the pavilion. They believed in fairies and mythology, and the shelter served as the divine place for tribal leaders to transmit information.
Editor:Zhang Pengfei |Source: CNTV.CN