Watch Video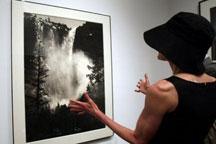 Play Video
And this next item is something we'll likely see at auction soon. A US painter says a box of 65 old glass negatives that he bought at a garage sale have been authenticated as the work of famed nature photographer Ansel Adams.
The negatives, which Fresno, California painter Rick Norsigian purchased for 45 US dollars ten years ago could be worth up to 200-million US dollars.
Adams is renowned for his timeless black-and-white photographs of the American West, which were produced with darkroom techniques that heightened shadows and contrasts to create mood-filled landscape portraits.
He died in 1984 at the age of 82. Today, his photographs are widely reproduced on calendars, posters, and in large glossy 'coffee-table' books. Original prints are coveted by collectors.
Norsigian's lawyer Arnold Peter said a team of experts who studied the negatives over the past six months concluded "beyond a reasonable doubt" that the photos were Adams' early work, and they were believed to have been destroyed in a 1937 fire at his Yosemite National Park studio.
However, representatives of Adams said they're not buying Norsigian's claims.
Editor:Zhang Pengfei |Source: CNTV.CN