Watch Video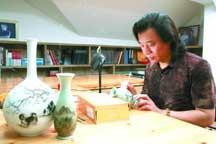 Play Video
How would you write a dozen Chinese characters on a piece of paper as small as a coin? That's the mystery of micro calligraphy.
This amazing art is now being highlighted at the World Expo in Shanghai. Now, let's meet one of the artists behind those tiny words.
It looks no different than any ordinary art piece featuring peony. But look closer, and you might see the difference. These peony, a Chinese symbol of prosperity, are composed of some ten-thousand tiny Chinese characters, excerpts from two of China's ancient classic works.
And all are written in traditional Chinese characters, which are more complicated than the simplified version being used today.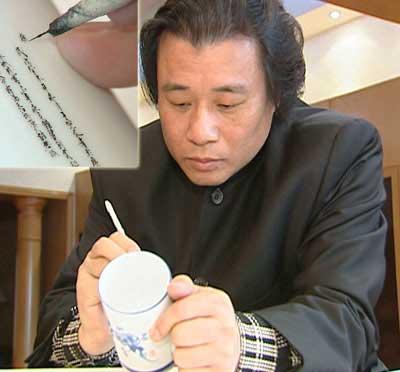 Wang Zhiwen and his micro calligraphy
It's one of the works of micro calligrapher Wang Zhiwen who is at the Expo demonstrating the mystery of writing Chinese characters even smaller than a sesame seed.
Wang Zhiwen said, "The peony piece is hard. To make it look like a real one using only characters is difficult. I also have to take care of the color, heavy or light, dense or loose. Now it's a great opportunity to display China's micro calligraphy at the World Expo and let more people learn about the micro world of art. "
Wang started his career about 20 years ago. Because his specialty is so rare, he must also make all the special brushes and ink himself. Wang once spent 7 years to write 350 thousand traditional Chinese characters on an arrow container which is only 85 centimeters tall and 29 meters long in diameter.
In the end, he became a Guinness record holder.
Editor:Liu Fang |Source: CCTV.com