Watch Video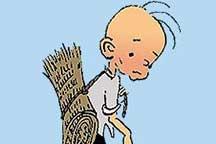 Play Video
Just like Tintin with his young Western fans of comic strip heroes, Sanmao, a happy-go-lucky resourceful boy with only three locks of hair has been entertaining youthful Chinese readers from the day he was born 70 years ago.
This year also marks the 100th birth anniversary of Zhang Leping, Sanmao's creator. Through Sanmao's experiences, the late comic artist expressed his concern for the young victims of World War II.
Now, Shanghai Library is hoping to find the original manuscript of the classic comic.
These are the earliest published Sanmao comic strips. They have been collected and displayed here at the Shanghai Library, which is now searching for more precious items to add to its collection. The library is particularly eager to get its hands on the original manuscript and is hoping that some private collector or member of the Zhang family will answer the call.
Zhou Deming, vice director of Shanghai Library, said, "We plan to collect first and then publish those manuscripts to inspire today's readers in another way."
Zhang Rongrong, son of Zhang Leping, said, "If those manuscripts are collected in the right way, I will show great support for this effort. Last year, I donated the last work of my father to Shanghai Library."
Shanghai Library first started to collect famous writers' manuscripts since the 1950s, but it's becoming harder and harder to follow this tradition, especially today when more and more writers are accustomed to writing on computers.
However, it's believed that there is no better way to see the birth of a masterpiece than a writer's original manuscript.
Editor:Liu Fang |Source: CCTV.com