Watch Video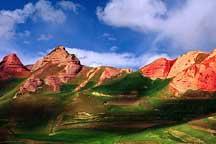 Play Video
The big cultural news in China now is that two sites have just been proclaimed world heritage sites by UNESCO. Among them is the "Danxia Landform" listed as a World Natural Heritage.
While hailing their success, local officials have quickly acknowledged that there's still a long way to go before the goal of adequate protection is matched in the consciousness of the general public.
Danxia landform, a unique type of petrographic geomorphology, could be defined as "a landform that consists of red sedimentary layers exposed by steep cliffs."
"Danxia Landform of China" is the general name of a Serial Nomination for World Natural Heritage. This nomination consists of six geologically and geographically related Danxia Landform areas, which collectively feature the outstanding universal characteristics of Danxia geomorphology in south-east China.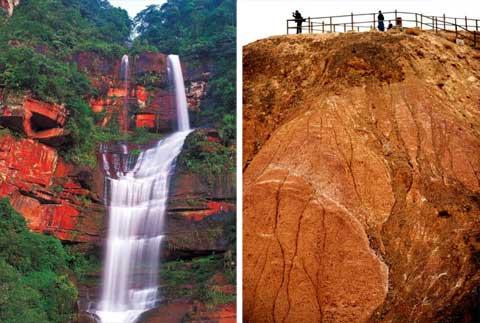 Danxia landform
Take Mountain Langshan in Hunan Province as an example. It's the province's second world natural heritage listing after the Zhangjiajie scenic area.
The biggest value of a natural heritage lies in its very existence. Zhangjiajie once suffered excessive exploitation of its natural scenery. In order to avoid the same fate at Langshan Mountain, local officials launched a conservation project four years ago. They poured in 410-million yuan to overhaul the entire scenic area covering 66 square kilometers. 182 residential houses were moved away, and the development of infrastructure for commercial use were cancelled.
Local officials say that no exploitation means no tourism industry. But only proper exploitation will lead to a sustainable development.
Officials from the Hunan Tourism Bureau have fully realized the brand effect of World Heritage. The number of tourists to Zhangjiajie Scenic Area have increased by nearly ten times after it earned the world heritage listing. But they believe this time for Langshan Mountain, they will control the development at a reasonable speed in order to better preserve the natural heritage.
Editor:Liu Fang |Source: CCTV.com