Watch Video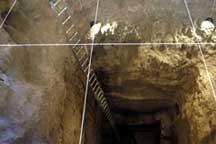 Play Video
Archaeologists are hoping to find the lost tombs of ancient rulers inside a tunnel that has remained sealed for almost 2,000 years.
The site is near Mexico's famous Teotihuacan pyramids, and archaeologists are searching for clues about the mysterious collapse of one of this ancient civilization's largest cities.
Researchers from Mexico's National Institute of Anthropology and History hope to gain access in two months to the tunnel, which measures between 100 and 120 meters and some 15 meters deep. They want to know with certainty what is inside and at the end of the tunnel.
The remains of the governors of the city, founded some 2,500 years ago and home to the famous pyramids of the Sun and Moon, have not been found in spite of decades of searching.
Sergio Gomez, archeologist, said, "It's of great importance to understand aspects related to the cosmos, the vision of the physical universe and religion of the ancient Mesoamerican people. Not only from Teotihuacan, but in general for Mesoamerica. We have a lot of knowledge, there are a lot of investigations about the importance and meaning of the underworld. But with this discovery, we are really working well to understand this region of the cosmos, of the universe, according to Mesoamerican thinking."
The entrance to the tunnel is found close to the temple of the feathered serpent in the archeological complex, which is close to Mexico City. At the end of the subterranean passage, the researchers hope to find a chamber measuring about 10 meters by 10 meters where the tombs of the governors would be.
The existence of the tunnel, which was discovered with the use of scanners, has been known for many years, but researchers began looking for access to it last year until conditions were favorable.
During the excavations, the archeologists found at least 60,000 pieces, including shell necklaces, animal remains, clay pots and obsidian arrow points, which were thrown in by the people from Teotihuacan as an offering when the tunnel was closed.
Teotihuacan is Mexico's oldest major archeological site and during its heyday in 500 AD, the city was home to some 200,000 people, rivaling the size of ancient Rome at that time, according to archeologists.
Today, it is surrounded by encroaching slums spilling over from the outskirts of Mexico City, but swarms of tourists still visit the giant 65-meter sun pyramid each year to celebrate the spring equinox festival marking the sun's return to the northern hemisphere.
Editor:Liu Fang |Source: CCTV.com