Watch Video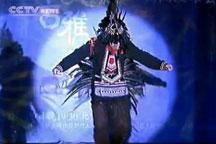 Play Video
In Aoluguya, a county in north China that can get as cold as 50 degrees Celsius below zero, live an ancient people called the Evenks. They are the only Chinese minority ethnicity that is still pasturing reindeer and hunting.
But now, only some 200 of the Evenks make this their livelihood, placing their culture at the edge of extinction. Before that happens, a group of responsible artists are now trying to decode the mysterious Evenks.
Taking the last female Evenki leader's romance as its spark, the stage play "Aoluguya" depicts the pastoralists' religion, traditions, customs, and of course, their singing and dancing.
Buren Bayaer, a Mongolian ethnic singer, who successfully produced "Auspicious Trio" and "Multi-Gentilitial Children's Choir", and his wife, an outstanding singer of Evenk, are the initiators of the project.
Three years ago, they started a journey they call "seeking the root." They visited the forestry tribes and hunting spots, interviewed the Evenk's last woman leader Maria So, and even went to Russia, Norway, and Iceland to find out about similar reindeer cultures. "Aoluguya" is the brainchild of their endeavor.
At the play's news conference in Beijing on Thursday, Buren Bayaer showed some of the ancient musical instruments they collected from the Evenks habitats, which will all be showcased in the performance. He also disclosed some highlights of the play.
Buren Bayaer, Dorector fo "Aoluguya", said, "Dancing plays a prominent part, including the national cultural heritage Shaman dance and a rarely seen crane dance. Evenk's music is also very distinctive, featuring a special kind of throat singing, and (they have unique) instruments. In all, audience members will see a panorama of the forest culture."
The pristine tale of the reindeer herders will be staged at Beijing's Poly Theatre between August 26th and 29th.
Editor:Zhang Pengfei |Source: CNTV.CN