Watch Video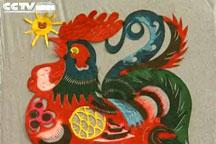 Play Video
Yuxian county in northern Hebei province is the hometown of China's paper-cut. So, it is there that the traditional folk art is making its resurgence.
In order to compete with those produced in factories, government support and the efforts of multiple generations will keep the hand-made decorations flowing from the region.
At Yuxian county, paper-cut is far more than a kind of decoration on windows as elsewhere in China. Here, paper-cut is part of their daily life. Here, you'll meet old people who have been doing the work of paper-cut for their whole life. Paint and cut, it's not only a way to create art, but is also an expression of thoughts and emotions.
Before flowers and birds, China's twelve zodiac animals and popular fairy tales and legendary figures were the favorites. But today, this tradition is changing, just as the lives of those who practice it are changing. It's a call, an urgent call from the makers, the viewers, and the experts. None of them want to see paper-cut only exhibited in museums. But they are uncertain of what to do about it.
Zu Tianli, Chinese Australian, Paper-cut Artist, said, "I think paper-cut should embody the personality of the person who made it. It's an embodiment of vitality. There is still a lack of method to make the viewers feel such a visual experience of the charm of the personality."
Xiang Wenju, Secretary General, China Fold Art Association, said, "To inherit the craftsmanship is very important, but to keep the art alive also needs interaction with people. For instance, during our investigation, we find that more people moved into modern buildings from the old houses. It sends a dangerous message if paper-cut does not adapt when the windows they are put on have changed."
Xiang insists that not only the artists create them but people have to use it and bring it into their life. It's how an art lives on. If it is only exhibited in museums, it means a kind of death of a legacy.
Editor:Zhang Pengfei |Source: CNTV.CN