Watch Video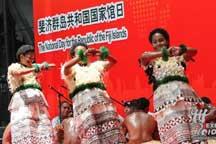 Play Video
The 2010 Shanghai World Expo is celebrating another island nation in the South Pacific Ocean.
Friday marks the National Pavilion Day of Fiji, an archipelago country that has become one of the hottest tourist destinations around the world, luring countless visitors to its amazingly beautiful coastlines.
Let's stop by the Fiji Pavilion to discover more about this country and its people.
Welcoming visitors to the Fiji Pavilion is a traditional dance performance presented by the Fijjian artists. Fans are featured prominently in their show, as they represent weapons in the choreography. The fans are made of a certain kind of plant that possess great tensile strength, similar to the valor and perseverance of the Fijian warriors.
2010 marks the 35th anniversary of diplomatic relations between Fiji and China. Josaia Vorege Bainimarama, the Prime Minister of Fiji, visits the Shanghai World Expo along with his entourage. The Prime Minister says the expo serves not only as a platform where the Fijian people can fully display their culture and arts to the world, but also a great opportunity for the Sino-Fijian collaboration in various fields.
The Prime Minister adds that he's deeply impressed by the hospitality of the Chinese people during his trip to Shanghai, and he hopes more will visit his home country in the near future.
The Prime Minister also says that he is a big fan of Chinese culture.
The country of Fiji is the hub of the South West Pacific, consisting of 322 islands and 522 smaller islets. The first settlements in Fiji were started by voyaging traders and settlers from the West about 5-thousand years ago.
The Fijian people are almost all well versed in sailing. They favor a special vessel called "Drua", which is unique in Fiji. Usually, it's mast is about 30 to 40 meters high, and has a capacity of 150 people. It takes approximately 6 to 7 years to build a Drua.
The culture of Fiji is a rich mosaic of indigenous, Indian, Chinese and European traditions. And its people are well known for their hospitality. The nation is hailed as one of the top ten honeymoon destinations for newly-weds. Saying the vows to your better half under the blue sky, and enjoying the life of paradise on earth... The country of Fiji still has a lot more to offer.
Editor:Zhang Pengfei |Source: CNTV.CN