Watch Video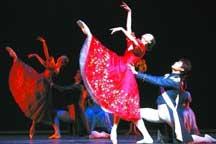 Play Video
The National Ballet of China has staged "Onegin," an adaptation of Alexander Pushkin's classic novel at the National Center for the Performing Arts on Friday.
Audience members say they were impressed by choreographer John Cranko's work.
The dramatic and emotional three-act work is based on Pushkin's novel-in-verse about arrogant aristocrat Onegin, who rejects the love of the naive young Tatiana, only to realize later that he made a terrible mistake in throwing away his one chance of happiness. The story inspired a Tchaikovsky opera of the same name and several movies.
Onegin employs Cranko's distinctive choreographic style to capture the original story's emotional intensity, potent drama and tragic ironies with striking fidelity and perceptiveness.
From Pushkin's story of his Byronic hero, Onegin and his love for Tatiana, Cranko has shaped a timeless, layered examination of the themes of passion, honor and regret. Tchaikovsky's music provides the perfect musical context for the ballet, shifting from moments of melodramatic intensity to moods of poetic calm.
An audience member said, "Very beautiful I should say. The dancers' steps are very graceful. The setting and the music are all very beautiful."
"The music is very good. It helps me to get the plot's development, I mean, the music gives me clues to help understand the story," said an audience member.
Onegin is acclaimed as one of the most ravishing narrative works in the history of ballet.
Li Jun, plays "Onegin", said, "It's truly a classic work of the world. It's choreography and music are all very beautiful."
Wang Qimin, plays "Tatiana", said, "There's no problem for us Chinese to perform a western work. We tell the story through our body language."
It's the fourth time the National Ballet of China has staged the ballet masterpiece at the National Center for the Performing Arts.
Editor:Liu Fang |Source: CCTV.com