Watch Video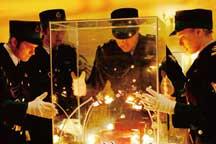 Play Video
More and more often, China is making TV dramas with their foreign counterparts in anticipation of a wider and better market. Now, let's take a closer look at some of the latest productions.
TV makers from China and the US are reviving the popular stories of the Flying Tigers, the popular 1st AVG, that is the American Volunteer Group, who aided China against Japanese invaders during the second World War. The TV drama is backed by US investors, and has a creative team, cast, and crew from both the US and China.
Meanwhile, China and Russia have teamed up for a suspense action drama adapted from Turgenev's "Hunter's Diary". History and culture of the neighbors are smartly mixed into the thrilling episodes. And as usual, Chinese kungfu is the biggest attraction for Russian viewers.
Japanese audiences are more enchanted by the mystery of China's ancient royal families. The stories and legends of the Empress Dowager Cixi of China's last feudal dynasty, Qing, is interpreted in TV drama "The Pleiades." After debuting on the high-definition channel of NKH, the drama has received high ratings in Japan.
2009 saw a big increase on the import of China's video productions, an jump of nearly 45 percent over 2008. Among them, TV dramas including TV films are more than 5-thousand hours long, making up half of the total.
Editor:Liu Fang |Source: CCTV.com