Watch Video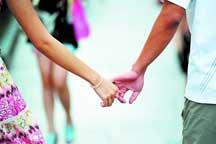 Play Video
The most pitiable lovers of any Chinese legend have their once-a-year rendezvous on Monday.
The Qixi or the Double Seventh Festival, which falls on the 7th day of the 7th lunar month, is a traditional festival full of romance. It's been referred to as the Chinese Valentine's Day over the recent decade.
And like many other traditional Chinese festivals, the Qixi Festival has evolved into a more commercialized celebration among young urbanites.
Young lovers are paired up in Beijing's downtown commercial areas. Whether searching for some special gifts to mark the festival or simply to enjoy some sweet moment with their significant other, they are enjoying the festival spirit just exactly as Westerners do on Valentine's Day.
Huizi said, "Why not get one more present. I think happy lovers like to make a special day out of almost anything. We celebrate both Chinese and Western Valentine's Day with equal passion."
However, the older generation has been lamenting on the weakened and diluted traditions in urban cities as some of the traditional customs are still observed in rural areas.
The legend goes like this. The daughter of the Heavenly King, the Weaver Girl, secretly came down to earth and married a kind-hearted and diligent fellow Cowherd. But the angry King and Queen separated them on the two banks of the Milky Way. Once a year, all of the magpies in the world come to build a bridge for them to meet each other.
In the past, Qixi was not only a special day for lovers, but also for girls. Girls would conduct a ceremony to beg the Weaver Girl for wisdom, dexterity and a satisfying marriage in the future.
Yin Han said, "There's a growing preference for western holidays among young people. Even if they do celebrate a Chinese festival, they spend the time it in a completely Western way. The commercialization of many festivals have resulted in the over-emphasis of the holiday's external forms, instead of their inherent meanings."
Some people argue that today's modern women have their own careers and other achievements apart from being a housewife as the ultimate destination.
It may be inevitable for the festival to evolve into a more modern celebration. But what remains true is that the legend of the Cowherd and Weaver Girl still has deep roots in the hearts of Chinese people.
Related stories
Editor:Liu Fang |Source: CCTV.com