Watch Video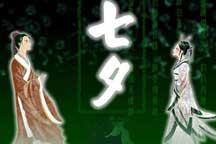 Play Video
Still about the Qixi Festival. Though sometimes referred to as China's Valentines Day, unlike in Western countries, it's not about chocolates and flowers.
Chinese tradition focuses on fruit,incense, needlework and the hope of finding the perfect husband.
This is a traditional Chinese Valentine ceremony. In ancient times, 16-year old girls would pray with their mothers in the hope they can become highly skilled in needlecraft. The girls would also show-off their needlecraft skills at the ceremony. In years gone by, the only women who could get married were those who had attended one of these ceremonies. It was where girls were taught how to bear family responsibilities and how to be a good person.
Some traditional folk arts and craft would also be on display.
Pan Yaoshan, master embroiderer of Zhucun Village, Guangzhou, said, "The ancestors of my family undertook traditional Cantonese embroidering. Less and less people embroider nowadays. The ceremony on the seventh day of the seventh month provides us with an opportunity to show the handicrafts. I am so happy to see that more and more young people are taking up Cantonese embroidering.
PAN YAOSHAN and his elder sister made these two embroideries, the emblem and mascot of Guangzhou's soon-to-be-held Asian Games. Apart from the embroideries, there are many other handicrafts on display. These old women are making art and craft animals and flowers for the fete. This old man is showing his exquisite skills in paper cut. All the handicrafts show the colorful folk tradition around the Chinese Festival.
Gao Jingyi, asst. to director-general of Taiwan Cultural Comm. Promotion Assn., said, "On our traditional Valentine's Day, intelligence is what we emphasize, which maybe totally different from western Valentines. No matter boys or girls, we hope they can understand the importance of responsibility on family and themselves. Besides love itself, we call for the youth nowadays to pursue the harmonious family and loyal love."
Compared to western countries' Valentine' Day, the traditional Chinese version might not be that romantic, however it's still important for young people.
Related stories
Editor:Liu Fang |Source: CCTV.com