Watch Video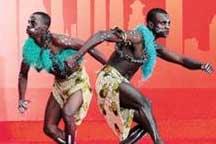 Play Video
The Republic of Equatorial Guinea was the co-guest of honor at the Shanghai World Expo on Monday.
The central African country discussed the concept of "Sustainable beauty of the city" with visitors the world over on its national pavilion day.
Entering the pavilion on the waves of the sea, visitors can walk through the Bioko Island, the Benito River, and up to the Pico Basile Mountain, where the statue of Saint Mary witnessed the independence of the republic. Beautiful Spanish-style architecture is hidden among coconut groves and cocoa trees.
Revolving around the theme of "sustainable beauty of the city," Equatorial Guinea has been exploring ways to reach a balance between urban development and ecology in the process of urbanization. The pavilion has three exhibition areas; they are, "seaside scenery", "energy exploitation and utilization" and "urban future." These areas present the shared past, present and tomorrow of nature and city.
Although first settled by pygmies and later by migrations of various Bantu speaking tribes, the islands and territory now known as Equatorial Guinea were first found by European explorers in 1471 during the great age of discovery that eventually led to Christopher Columbus' discovery of the New World.
Despite a veneer of Spanish culture and of Roman Catholic religion that is thicker in Bioko than on the mainland, Equatorial Guineans live largely according to ancient customs, which have undergone a revival since independence.
Among the Fang of the mainland, witchcraft, traditional music, and storytelling survive.
Related stories
Editor:Liu Fang |Source: CCTV.com