Watch Video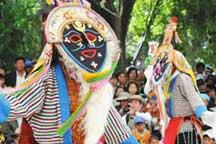 Play Video
From a purely religious ritual, to a most colorful festival, the Tibetan Shoton Festival is changing with the times. And as the curtain falls on this year's festival, let's check out what's old and new for this year.
The masked opera is performed just as it was over 300 years ago. It was the first art form added to the Shoton Festival, which served only as a religious ritual prior to the 17th century.
Back then, the Tibetan Buddhist monks reserved the month of June on Tibetan calendar for mediation and self-cultivation. And from July 1st, the monks were again allowed to go out of the monasteries, when local residents would offer alms of yogurt. So, Shoton Festival is also called "Yoghurt" festival.
Dawa Ciren, vice-dean of History Dept., Univ. of Tibet, said, "Shoton Festival represents the essence of Tibetan culture. Its origin is in the Buddhist culture. And as time went by, it picked up a good number of modern elements. And today, Shoton mixes both traditional and modern Tibetan cultures. And that's the value of Shoton."
And Shoton is more than masked dances and Tongka art. The commercial value of Shoton has also been discovered. A Tibetan bakery shop is promoting its delicacies made of highland barley and other materials you can only find in Tibet.
And another exhibitor from neighboring Sichuan province has brought ZangCha to Shoton: it's a kind of tea the Tibetans simply can't live without.
And travel to Lhasa also gets into the full swing thanks to the help of Shoton. Tourists come for the grand landscape, religious appeal, and ethnic minority flavor. This year, Dangxiong Horse Racing Festival was also included in the Shoton celebration.
Yundan, official of Dangxiong County, Lhasa, said, "The Horse Racing Festival of Dangxiong has become a key part of Shoton. We expect to attract more visitors and investors to Dangxiong through Shoton, to spur the economic growth of our hometown."
Shoton is evolving, but the core of it never changes. In 2006, the Shoton Festival entered the first batch of National Intangible Cultural Heritage protection list.
And now it's applying for the status of the World Intangible Heritage. By protecting its traditional value and exploiting its economic value, the Shoton Festival will continue to enrich the Tibetan life.
Editor:Liu Fang |Source: CCTV.com