Watch Video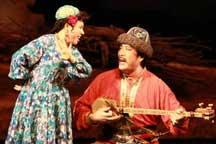 Play Video
What happens when western opera meets an oriental Chinese story? No, we're not talking about Puccini's "Turandot," but an original Chinese opera based on a legendary love tragedy that takes place in China's Xinjiang Uygur Autonomous Region.
The opera's ethnic flavor-saturated arias swirled around the auditorium of the National Center for the Performing Arts Saturday night in Beijing.
Apart from a regular orchestra providing the musical background, the orchestra pit also featured invited Uygur artists playing Muqam, which was designated by UNESCO as part of the Intangible Heritage of Humanity.
Set in Kashgar of Xinjiang, the opera follows the bitter-sweet story of two love birds. One is Tashway, a vagabond artist specialized in playing Rawap, a traditional musical instrument of the Uygur ethnic group. The other is Anargul, daughter of a local wealthy lord.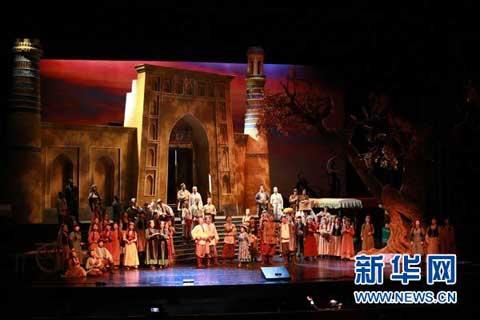 Set in Kashgar of Xinjiang, the opera follows the bitter-sweet story of two love
birds.
Although the two desperately fall in love, the huge difference in social status coerces the pair to leave their hometown and travel overseas. Anargul passes away during their vagabond days, but is survived by her daughter, also named Anargul.
Decades later when Tashway returns to his hometown with his daughter, he is deeply touched by the late blessing he receives from Anargul's ailing father.
Landing both the role of Anargul and her daughter is coloratura soprano Dilber, who is of Uygur origin herself. She has given countless concerts and recitals around the world over the years, winning the moniker of Nightingale by different nations for her clarion and powerful top.
The opera is especially tailored for Dilber by composer Jin Xiang, who had been living in Xinjiang for decades.
Jin Xiang, composer, said, "The inspiration comes from the pieces of music I've accumulated in Xinjiang. I've incorporated Muqam, the melodic formula of traditional Uygur music, and also some local folk numbers into this opera. I composed this work with the ornament of Uygur melodies, all based on local folk songs that are popular in Xinjiang even today. Actually one of them is named Tashway."
"Romance of Rawap" is presented by the National Opera House of China, under the baton of Yu Feng, the artistic director of the Opera. The opera is among the batch of 32 performances by state-owned art troupes hitting the stage in the capital from August the 3rd to September the 4th.
Apart from "Romance of Rawap", the National Opera House of China will also present their repertory work "Farewell, My Concubine", another original opera that has just clinched the top honor of China National Stage Art.