Watch Video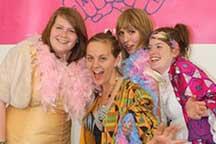 Play Video
From mini coupes to bell bottoms and punk and rock, the British celebrate the OLD, with a NEW festival. The Goodwood Festival pays homage to Britain's past with a "vintage" theme.
The festival celebrates all things uniquely British from the 1940s to today. On hand were nostalgic reminders of yesteryear from fashion, film, music, and design.
A makeshift British high street was created with shops by Oxfam, luxury grocers Fortnum and Mason, and Abbey Road -- the famous recording studios where the Beatles recorded their hits.
Festival goers got into the spirit of things by sporting fashion and hair styles from their favorite era.
Lisa Morris, shop manager of Oxfam Festival, said, "People are mixing and matching. They're mixing a vintage piece with a contemporary item and they're just mixing maybe a vintage hat with a bang up-to-date pair of trousers. People just do what they like now but having a vintage item in your wardrobe just means nobody else is going to be wearing the same item of clothing."
A "soul casino" was built complete with a disco ball and dance floor, and the all important Persian rug to give the feel of British clubs in the 1960s.
From one face to another, Ronnie Wood was on stage with his former band The Faces.
Earlier, punk legends the Buzzcocks took to the stage with typical British weather - rain.
The Goodwood Festival ended on Sunday.
Editor:Liu Fang |Source: CCTV.com