Watch Video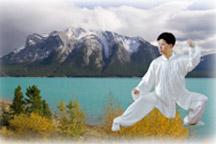 Play Video
Now, if you watch our program regularly, you know that we often serve up a variety of brain food. Such is the case with our next story. Taichi is a Chinese cosmological term for the "Supreme Ultimate" state of undifferentiated absolute and infinite potentiality.
Taichi is best known in the West from the Taichi Quan, or "Supreme Ultimate Fist," which is an internal Chinese martial art that is practiced for both its defense training and health benefits. These days, the martial art has grown into a popular form of exercise all around the world. Proof of this was seen recently as one thousand people who practice Taichi Quan gathered in Toronto, Canada.
Taichi Quan lovers from around the globe thronged in the city's central square and communities. They are not trying to hit a new Guinness Record, but to indulge their bodies and souls into the supreme ultimate.
The one thousand people are from all walks of life, nationalities and ages. Their common interest is the great philosophy of ancient China.
According to the sponsors, tens of thousands of Taichi practicers in over 20 countries and regions participated in the activity simultaneously.
Related stories
Editor:Yang Jie |Source: CNTV.CN