Watch Video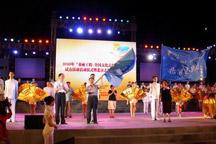 Play Video
Cultural volunteers from some of China's big cities are heading to the Tibetan and Xinjiang Uygur Autonomous Regions. They will share their performance with the local people and exchange ideas with local artists. The project, initiated by China's Ministry of Culture, kicked off on Monday night in Beijing. Let's see what it's all about.
China's Vice Minister of Culture, Yang Zhijin, and Deputy Mayor of Beijing, Cai Fuchao, were among the guests who gave speeches at the launching ceremony that took place at the northern square of the Bird's Nest. Each expressed their support for the project.
Nearly 200 cultural volunteers from Beijing and Chongqing municipalities, eastern Zhejiang and southern Fujian provinces will tour Tibet and Xinjiang Uygur Autonomous Regions. Professional performers will stage a wide array of free performances. There will also be some featured exhibitions for the public, and lectures for fellow artists.
Wang Zhu, Vice Director of Beijing Municipal Bureau of Culture, said, "In addition to the participation of volunteers, Beijing will also donate for this project 7-million yuan and a few modified vehicles for performances to Hetian in Xinjiang Autonomous Region. Now, there are 5,000 cultural volunteers registered in Beijing. How to offer a long, healthy, and good service for the society and manage the volunteers well is the key."
The smile of volunteers is a signature brand of the 2008 Beijing Olympics. The event has ended but the legacy is being kept alive.
Whether at the current 2010 Shanghai World Expo, or in the ongoing relief work in the landslide-hit Zhouqu county in northwestern Gansu province, volunteers are offering their hands wherever they are needed.
Editor:Yang Jie |Source: CNTV.CN