Watch Video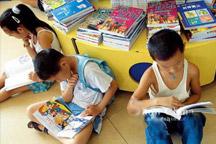 Play Video
Recently, we did a story on one brick-and-mortar bookstore that was forced to close. It's a trend we've seen more and more in this Internet age. But today we want to tell you about another community bookstore in south Beijing that's bucking the trend with a really innovative idea. Every week-day afternoon, the bookstore turns into an after school center for teenagers. Parents who cannot spend the day with their children are sending them to this store, and picking them up when they get off work. Let's see how it's going.
There is hardly an adult buyer during workdays in this four-story bookstore. On the third floor where children's books are located, it's a very different scene. Teenage readers, who are found in different poses standing, squatting, or sitting with their eyes glued to books.
The bookstore has provided additional chairs for these young readers. And the parents have found the bookstore a good place for children, with air-conditioned rooms and a nice assortment of books.
Staff members say welcome these teenagers, but that some bad habits need to be improved, such as putting beverages on books, sitting on bookshelves, and putting books down in some random spot.
While some make the best use of their time away from parents, others were happy to share a little family time. Some twenty-five children of migrant workers in Beijing got to enjoy a day in the Museum of Nature. With an introduction by volunteers, they learned the origin of planet and were amazed by the collection of dinosaur fossils.
Editor:Yang Jie |Source: CNTV.CN