Watch Video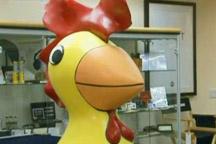 Play Video
If you're a fan of the TV series "Lost," you'll be very interested in this next story. Headed for the auction block are cars, pieces of a plane, and other memorabilia from the show. Fans can own a piece of TV history as auction house "Profiles in History" gets ready to sell more than 11-hundred items from the popular production.
Want to sit in the same chair as Evangeline Lily? Drop a few hundred and it could be possible.
The collection consists of a multitude of costumes and props, all priced in the 200-300 dollar range.
And that's the whole idea, said Profiles in History president, Joe Maddalena.
Joseph Maddalena, President of Profiles in History, said, "You have a favorite moment in the show and you want a costume from that moment, there's every iconic moment from all six seasons of "Lost" and that's what's great about this auction."
Of course, there are some big ticket items. A large section of fuselage from Oceanic Flight 815 - the doomed plane that crashed on the island - is available and estimated to sell somewhere between 3-to-5-thousand dollars.
Poster of "Lost"
The Swan Station computer is up for grabs, estimated between 1,000-1,500 dollars, as is Hurley's winning lottery ticket for 600-800 dollars.
The "Lost: Official Show Auction" will take place in Santa Monica, California during the weekend.
Editor:Yang Jie |Source: CNTV.CN