Watch Video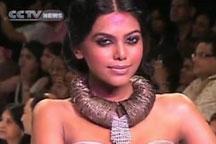 Play Video
Now, we take you to India where the country's first-ever Jewellery Week comes to an end on Thursday. On Wednesday, Bollywood actress Sharmila Tagore stole the show in Mumbai, wearing some scintillating jewellery pieces.
Wednesday's collection on display included modern art jewellery pieces designed by Radhika Singh and Sayanta Sarkar.
The overall collection blended intricately carved necklaces, armlets, and chains of uncut diamonds on corded strands and chunky gold bracelets.
Sharmila Tagore, Actress, said, "Wonderful designers and when I was asked to come and be the show stopper here, I accepted because there are couple of reasons behind this. As you know my daughter Sabah Ali Khan is also a jewellery designer and she is here somewhere also participating and she also studied in Karls Bard and Suyanta also went and he is the seventh generation jeweller from his family and his family happens to be from Kolkata, so that is a huge connection and you must have gathered that from sindoor (vermilion) and the music and everything which was had that Kolkata touch and of course the jewellery was fantastic."
The extravaganza showcases the collections of 30 designers.
Buyers from China, Japan, Russia, Britain, Italy and other countries are taking part.
Editor:Zhang Pengfei |Source: CNTV.CN