Watch Video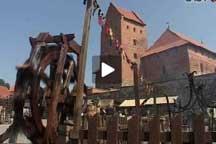 Play Video
Lithuanians are sampling life in the Middle Ages at an historic festival. Fighting knights, fire jugglers, and archers bring Trakai Castle from seven centuries ago back to life.
The 14th century castle is on Lake Galve, 30 kilometers west of the Lithuanian capital, Vilnius.
Once a year the clocks are turned back to celebrate a bygone era.
Virgilijus Poviliunas, organizer, said, "We are playing out the Middle Ages. We want the museum to live. We have been holding the festival six years already. We organize craft festivals because we want people to understand what life was like in the 14th, 15th or 16th century. We want them to see what kind of events, food and entertainment people used to have back then."
Knights compete for their honor and tourists get to sample a short time in the stocks at the annual medieval festival.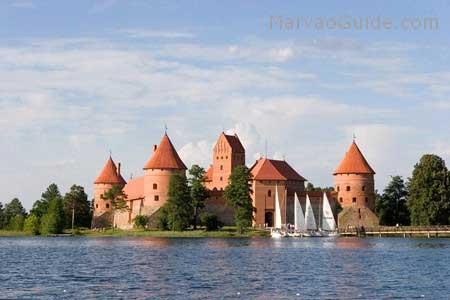 The 14th century castle is on Lake Galve, 30 kilometers west of the Lithuanian
capital, Vilnius.
Lisek Woldemar, a tourist from Warsaw in Poland, bravely volunteered to be locked in the medieval stocks. After being released he didn't appear to be too disturbed by his experience of public humiliation.
Lisek Woldemar said, "It is a wonderful event, there are many ancient things shown here. The museum is very nice, plenty of good things shown there, too."
The nearby town, which is surrounded by several lakes, was first mentioned in German chronicles in 1337 as "Tracken".
The region is famous throughout Lithuania for its 200 lakes, attracting thousands of tourists every year.
The castle is the centerpiece of the Trakai National Park, founded in 1991 to celebrate Lithuania's statehood and national identity.
A total of 2,600 people visited the Medieval festival.
The crafts shown during this year's festival ranged from coin and jewellery making to watercolor drawing and pottery.
Men, dressed in body armor, held tournaments and recreated scenes from life in the Middle Ages, while women, dressed as medieval housewives, cooked traditional Lithuanian meals.
All the food at the event was offered to visitors free of charge.
Those who stayed on the island for the evening didn't regret their decision and were entertained by fire-jugglers.
Editor:Liu Fang |Source: CCTV.com