Watch Video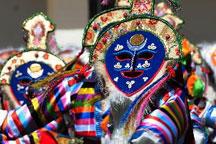 Play Video
It's been nine years since UNESCO launched a global project to identify "Masterpieces of Oral and Intangible Heritage of Humanity" that are in need of protection.
China now boasts 26 listings of the intangible aspects of the country's heritage. Now let's have a quick rundown of China's multifaceted folk traditions.
The category of intangible heritage covers a wide spectrum. It includes handicrafts, mythology and proverbs, folk songs and dances, ethnic customs and festival celebrations.
The United Nations body defines intangible heritage as the practices, representations, and expressions, as well as the associated knowledge and necessary skills, that communities, groups and individuals recognize as part of their culture.
Kunqu Opera, for example, is famed as the progenitor of all traditional Chinese opera. It is characterized by the graceful movement and cantabile melodies. Boasting a history of 600 years, the ancient performing art was China's first piece of intangible heritage to be recognized by UNESCO.
Guqin, or Chinese zither is a kind of seven-stringed plucked instrument. It's the world's oldest traditional music instrument that is still played in the present day. It's believed to epitomize the character and morals of China's intellectuals.
Much of China's intangible heritage comes from its 55 ethnic minority groups. The Xinjiang Uygur Muqam performance integrates song, dance and music all together.
Another ethnic minority group contribution to China's intangible heritage is the Mongolian Long Tune. They've been sung at rituals and key celebrations for two thousand years. The songs are characterized by their long and continuously flowing melodies, and singers need an extremely wide vocal range.
Today, paramount attention is being placed on these traditions that define the past, carry the present, and can help lead the entire human race to a better future.
Intangible heritage is often rooted in agrarian societies.
Globalization and urbanization have the greatest impact on their sometimes fragile ways of life. So it's here that much of the drive for protection is focused.
Todays's experts have been working all-out to persuade the public that it's still essential to conserve links with China's 5,000 years of civilization. But the real challenge is one for the next generation to take up.
Editor:Liu Fang |Source: CNTV.CN