Watch Video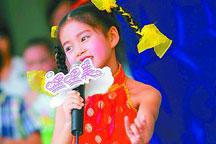 Play Video
So, what was your favorite song when you were a child? Maybe you can still hum it now.
But today's children in China are not so lucky, at least not in this regard. What they are singing along with are adult pop songs. The question experts want to answer is "why?" and how will Chinese children regain their own melodies?
Our reporter Zhang Song finds out what efforts are being made from both artists and the government.
These young performers have come a long way from the northwestern Xinjiang Uygur Autonomous Region to the capital Beijing. They want to share their own stories through music.
An actor from Xinjiang said, "It's about how to protect animals that live in the Tarimu Basin. "
An actress from Xinjiang said, "Human beings must stop cutting down trees and destroying the environment immediately."
None of these kids are professional performers and they didn't start until one month ago. It's a big test for all of them.
They are among the 600 children who were invited to join the first performance week of children's musicals. It's an effort from the Ministry of Culture to enrich the life of the country's younger generation through music.
Today's children are not easy to please. It's hard to keep them watch a show over an hour. Unlike adults, these young audiences can't control themselves. If they don't like the show, they'll make it obvious.
Getting them involved is one way to enchant these active minds and bodies. Not only as a viewers, they could also be the one performing on stage. The experience helps a lot more than hearing music alone.
Not a long time later, these children will feel the pressure of the national entrance exam'... a major determining factor in their placement within China's 1.3 billion population. For most of them, music will gradually fade out into the background or even just a memory. In this environment of practicality overwhelming idealistic dreams, it's no wonder these modern kids don't have their own songs to sing.
Those behind the creation of children's songs, musicals or dramas earn far less than those who are working for TV dramas or the film industry, so it's not strange to find that many composers or writers of children's genre are part-time. It really needs someone who is willing and able to jump out of the bustling and hustling circle, calm down, and write tunes for the young hearts.
Zhang Didi, composer, said, "When I came back from studying in Germany, I found that Chinese children are singing adults' pop songs. They deserve to have their own songs that will be a treasured memory even when they are old. That's why I insisted on working for children's musicals. In the past four years, our team with about 8 people have made 6 musicals. All are interpreted by teenagers or even younger children. "
Zhang believes this is how to get the youth of today closer to music, and how to make the composers and writers closer to the hearts of children.
According to Zhang, under China's current educational structure, students are routinely exposed to music, but are not given many opportunities to play, to sing, or to participate in music programs.
To improve the situation, more artists like Zhang are badly needed, and dedicated efforts such as the current one from the Ministry of Culture should be supported from all sides, especially the parents.
Editor:Liu Fang |Source: CNTV.CN