Watch Video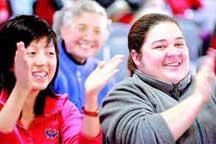 Play Video
Lifted by their strong desire to give back to society, seventy-two-year-old Xia Fengzhi and his peers have set up the Tuanjiehu English Association, adding fulfillment and fun to their years in retirement.
This is not exactly a regular English session. David Tool, a professor of International Economics and trade, is teaching a class filled with both the young and old.
The former US soldier and Vietnam War vet shares two more things with his grey-haired peers, love for the English language and a desire to help others.
Prof. David Tool from Beijing Int'l Studies Univ., said, "Teaching them English is not just give them something to study, but a skill, a talent to help others, to be useful to society. To own the truth, the old folks are much more enthusiastic.The young students study because they are required to, the old folks are doing it because they enjoy it."
The man behind Tool, and his volunteer worker for elder Beijing citizens, is Xia Fengzhi, or "Summer", a name that matches his enthusiasm for the English Association.
Leafing through this photo album, Summer is proud to tell us, and the many who call to inquire, how the group has grown to become a hub of citywide English fans.
Summer, director from Tuanjiehu Foreign Languages Assn., said, "Tuanjiehu Foreign Languages Association was founded in 2005. At the beginning we have only 13 students. Then we have seven English classes. Now we offer 22 classes to over one thousand students."
The association has established its headquarters in a community office in south Beijing. The members came together in 2000 after Beijing's successful bid to host the 29th Olympiad.
Their collective wish to become an Olympic volunteer has propelled the students, mostly past their fifties, to pick up what they have left years ago, or to start from scratch. Hellen Zhao is the group's co-founder. In sixty years of life, she never studied English for a single day.
Hellen Zhao, dep. director of Tuanjiehu Foreign Languages Assn., said, "Since 2001, I began to study the English because the Olympics. Because at that time, China has the chance to host the Olympic Games. So the purpose is to become an Olympic volunteer, to serve the Olympics."
Their dreams came true in 2008. Fifteen members of the Association including Summer and Zhao, volunteered to assist over 17,000 Chinese and foreign visitors during the Olympics. Their booths were set up at the Chaoyang Park, Sanlitun Bar street, and Laoshe Tea House. The volunteer work continued before and after the Games.
These days, every Sunday afternoon sees the students heading off to Tuanjiehu Park for English Corner. In English, they share ideas and bits and pieces from their daily lives. The communication is mostly small talk, but that's not all.
While many of Xia's generation might have surrendered to senility, taking care of grandchildren, or walking the dogs and entertaining themselves at parks, these senior citizens are taking life a step further.
The ability to communicate in a language other than their mother tongue is giving them a sense of self-satisfaction. But the capability to help and influence others is something they are most proud of.
Editor:Liu Fang |Source: CNTV.CN