Watch Video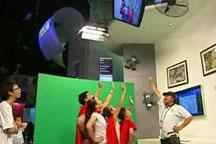 Play Video
Apart from the various pavilions representing different nations and regions at the 2010 Shanghai World Expo, the big event also features a distinguished pavilion proclaiming the power of the people. It's the Pavilion of Public Participation, located in Zone B of Expo Park.
The name of the pavilion suggests that participation is key. The Pavilion of Public Participation, which covers an area of 12-hundred square meters, aptly demonstrates the involvement of everyday people and their emotional attachment to the global cultural event. On display are photos, paintings, video clips and multi-media installations closely associated with the Expo that are collected from people of all walks of life.
Although some of the exhibits are not up to professional standards, they all vividly reflect the best wishes of the common people for the cultural bash.
Two paintings on display attract the majority of attention for their bold colors and empathy for visitors. They were created by 75-year old Chen Jinfang, an overseas Chinese painter who plans to create one hundred paintings for the Expo.
Chen Jinfang, Painter, said, "These are what I painted months earlier, so they are comparably small in terms of size. The ones I draw now are much bigger. I'll finish one hundred pieces during the 184 days. As of today, 69 are done."
Chen Jinfang was born in a rural area of Taiwan. After graduating from the Taiwan University, he continued his studies in France, where he earned a doctorate in modern art history.
The 75-year old Chen rented a gallery close to Expo Park. Over the past few months, he's been demonstrating his artistic range by portraying the various pavilions of different nations that he visited at the Expo.
There are also pieces by Chen that combine both western and eastern elements.
Decades of living overseas doesn't estrange Chen from his home country. His love for China and his compatriots are presented by pigments and brushes with realistic articulation.
Editor:Zhang Pengfei |Source: CNTV.CN