Watch Video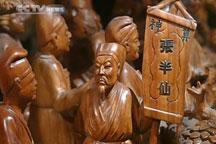 Play Video
Let's continue our exploration at the World Expo Beneath the Henan Pavilion is a high-security area packed with priceless works of art.
One of the highlights is a root carving piece, inspired by the thousand-year-old master painting "Riverside Scene at Qingming Festival."
The root carving piece that shares the same title weighs in at an impressive 12 tons. It is made from the gigantic root of a camphor tree grown in Southeast Asia. The diameter of the tree trunk measures four meters, and its root reaches a total length of twenty meters.
It took 35 artists five years to finish carving the piece.
Staff Member, Henan Pavilion, said, "This exhibit of root carving is made from a very rare plant-- it's a camphor tree that grows among the precipitous peaks of the tropical areas of Southeast Asia. The tree is about 23-hundred years old. You can smell the delicate fragrance that the tree gives off."
The root carving is inspired by the famous painting "Riverside Scene at Qingming Festival", drawn by artist Zhang Zeduan of the Song Dynasty more than 800 years ago.
The root carving features 314 figures of various facial expressions and gestures. It reveals the lifestyle of all levels of the society as well as different activities being carried out in the bustling urban center and rural areas of the Song period.
Visitors can also find countless street vendors, barges with passengers, as well as dense rows of shops, all of which amply demonstrate the prosperity of Bianjing, today's Kaifeng, during the occasion of the Qingming Festival hundreds of years ago.
Editor:Zhang Pengfei |Source: CNTV.CN