Watch Video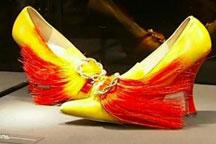 Play Video
Vivienne Westwood has unpacked 37 years of shoes for an exhibition of her weird and wonderful footwear designs in London.
More than 200 pairs of her creations are on display at Selfridges Department store's dedicated art space, the Ultra-lounge.
An entire section is dedicated to Westwood's plastic shoes, in collaboration with cult rubber designer 'Melissa', of which there are dozens of designs.
Other shoes featured include a pair of gold slingbacks studded with Swarovski crystals, a pair of towering Louis Vuitton platform boots with an enormous and dangerous looking gold stiletto heel, and a stacked white shoe with a wing on the side that looks like it's about to take flight.
Despite being a prolific designer of fetish-style footwear, Westwood says she doesn't have a thing for shoes herself, but she does enjoy having fun with them.
Vivienne Westwood, Designer, said, "Shoes are sexy. I mean everything has to be sexy, that's what my job is. I expect ideas to enter into fashion. For example I sometimes have made the shoes look like little goats feet so you look like something Greek, like a satyr. We've even got shoes where they've got little bumps where you see toes except there's only four bumps like an animal instead of five. You've got to play with your things."
Westwood has already held two exhibitions of her shoes - in 2006 in Italy and 2008 in Brazil, but this is the first time her full collection of shoes including the 2010 collection have been shown.
The exhibition runs until September the 22nd.
Editor:Zhang Pengfei |Source: CNTV.CN