Watch Video
Play Video
Early Autumn-time is fun time all around China. And the entertainment business has plenty of fun in store for anyone in the mood to get out there and enjoy some shows.
So, get out a pencil and your calendar as we present our Coming Attractions for the month ahead.
Loud clacking, extremely fast spinning, and colorful costumes, here comes the Mexican dancing troupe Ballet Folklorico de Mexico. These dancers have won the golden prize at Italy's International Folkloric Festival and gained praise from Mexico's President. It's both historical and modern, preserving tradition yet keeping up with the times. The ensemble brings their Latin America style of performance to the capital on September 14th.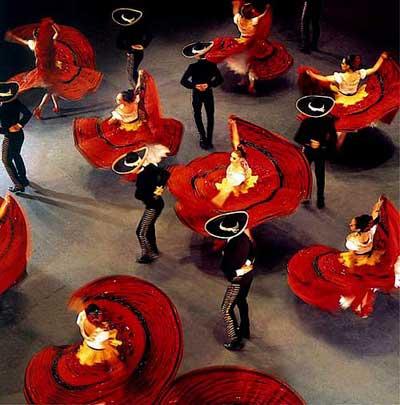 Ballet Folklorico de Mexico
Dilber is hailed as the Nightingale for her clarion and powerful soprano voice. She's permanently employed by the National Opera House of Finland and the Malmo Opera House of Sweden. In the original Chinese opera "Village Teacher," Dilber plays Yang Caihong, a female teacher who volunteers to work in a remote village. The production will run at the National Center for the Performing Arts from September 9th to the 12th.
When puppet show "My Own Swordsman" was played in Chinese Puppet Show Theater on August 7th, there laughter coming from both kids and adults in the audience. The last day of this puppet show is August 29th. So, if you haven't seen this great puppet show, there are still chances. This show tells a great story about Mo Xiaobei.It shows us a brave Xiaobei, after she has encounters difficulties during growing up. At the end, she protects her village by wisdom.
Hong Kong movie "Stool Pigeon" goes on general release this week in Beijing. In the film, Nick Cheung plays a policeman determined to hunt down a big criminal, while Nicholas Tse is the informant, or "Stool Pigeon" picked out of the underworld and squeezed for information.