Watch Video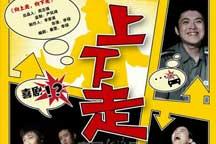 Play Video
During the current performance month of China's outstanding national art troupes, the lights of the National Theatre of Drama are now burning bright and hot. This time, the stage is fully given over to the younger generation.
A cast and crew who were all born after 1980 are turning their attention to the rarely known hearts of some very ordinary people. Our reporter Zhang Song finds out how they inject a fresh perspective into the prestigious national company.
Security guards get a new nickname in this drama; they're known as "Metro-double-oh-seven." Kicking off with such a relaxing opening, you might think the comedy would be simple, but "Go Up, Go Down" will shake or stir you with different colors of humor.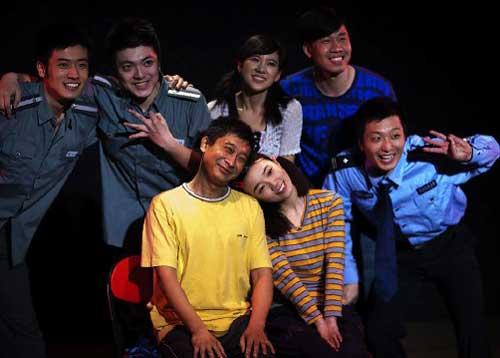 Still of stage drama "Go Up, Go Down"
The fully packed audience provided its own laugh track throughout the performance. Along with the spontaneous laughter comes the warmth of the true stories and sincere feelings of the security guards. These unsung heroes usually come from some poor inland rural area and try to make a living in big cities like Beijing and Shanghai.
On average, they only earn some 1,000 yuan a month, about 150 US dollars. But even with that, they might be able to offer a better life for their parents back in their hometown.
Li Liang, director of stage drama "Go Up, Go Down", said, "We often see security guards in our daily lives, in office buildings, in compounds, communities or in parking lots. Yet few people care about them or know anything about their life. If you could pay attention to them for a moment to observe them or talk with them, you'll get a big surprise. That's how I started. I got close to a team of security guards working at the Olympic Sports Center. It was a wonderful experience and I want to share it with the public."
It's not often you see security guards featured in a stage drama. They provide one example of the lengths to which city dwellers will go to survive in the concrete jungle...Up or down, it's not only a choice for them, but also the company behind this drama.
The National Theatre of China was founded at the end of 2001 when the former China National Youth Theatre and China National Experimental Theatre merged.
Teaming up with the country's most talented artists and art managers, the theatre started from a high point and continued going up, taking as its mission to interpret literary classics in the form of stage drama. Directors and performers of the theatre are proud to meet the challenges imposed by those masterpieces.
But the state-owned company is not willing to ignore the market, which is composed of large groups of people who want to be treated with more accessible and entertaining works, as a break from the pressures of urban life.