Watch Video
Play Video
Thousands of revellers thronged narrow London streets on Sunday to celebrate Children's Day at the annual Notting Hill carnival.
Local authorities ordered a clampdown on deafening sound systems.
Organizers were hoping for more than two million people to come and watch performers march in sequins, feathers and body paint to pulsating Caribbean beats over the two-day festival.
Sunday's event was dominated by colorful and noisy children's processions ahead of more intense partying on Monday, a public holiday in Britain.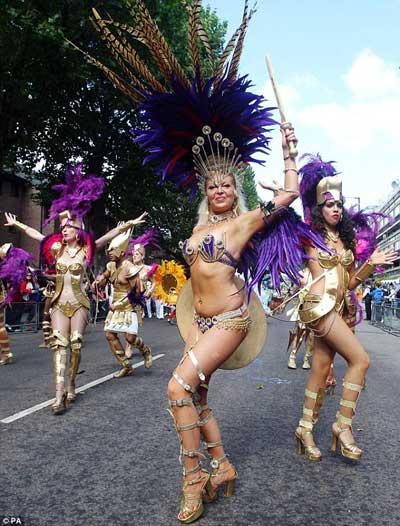 In costume: Revellers get into the swing of things at Notting Hill
Carnival
Spectators braved cool, cloudy weather to dance along with the children's groups, many wearing elaborate costumes in Afro-Caribbean green, gold and red.
The carnival takes place in the fashionable west London area portrayed in the film "Notting Hill," starring Hugh Grant and Julia Roberts.
From humble beginnings in 1964, it has grown into one of the world's largest outdoor street parties.