Watch Video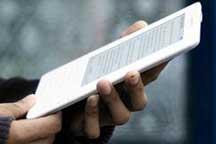 Play Video
China's digital publishing industry is coming of age. The trend is gaining momentum, but has not yet secured its mainstream status, nor does it spell doom for its pulp and ink brethren.
As our reporter Zhang Nini finds out, Chinese publishers are taking on the recent digital boom with ease and eagerness.
Commuting every day in Beijing's subway, twenty-four-year-old Ni Tao is never bored during the thirty minute ride to school. His journey is accompanied with an ebook. These digital devices are increasingly popular in China, especially finding favor among young people under the age of 45. It's a gadget Ni carries with him almost every day.
Ni Tao, student, said, "It's portable and easy to carry around. It's much lighter than carrying a large tome, or several of them, which you could hardly accommodate even in a backpack."
The boom of digital books is not an individual or even a regional phenomenon. Earlier last month, the US-based Amazon.com said that sales of digital books have outstripped US sales of hardbacks on its web-site for the first time.
The announcement might provoke feelings of horror among those who fancy the tangible feel of a freshly printed page, the weight of a beloved title, or the simple pleasure of rummaging around a musty old bookshop.
But inside the current Beijing Book Fair, there is every evidence to suggest that the digital change is coming... and has to come.
Chang Sheng, copyright supervisor of Hanvon Technologies, said, "Digital publishing is new and is developing very fast. In particular, Hanvon Technologies is now the second largest hand-held digital book provider in the world. Amazon.com, one of the largest booksellers in the United States, said that the sales of its e-reader is already outnumbered that of hardcover books. I am expecting fast growth in this field. "
This digital reading device could hold up to 2000 volumes of books. The pace of change to digital publishing is quickening, and the momentum seems unstoppable. But is it the time to mourn the demise of paperback books?
The answer is "NO." Even though the trend is sweeping the globe, E-books have yet to hit the mainstream in China. Experts note that established reading habits of Chinese middle-aged and older readers and the different contents have been obstacles for its popularization.
Print publishing still holds ninety-percent of the market share in 2010.
But Chinese publishers are being spurred on to beat the challenge.
The Zhejiang publishing group is setting up its own booth to display e-readers.
Li Fan, Zhejiang Publishing of Digital Media Co. LTD, said, "We have gathered up our own resources from physical books for other platforms, such as cell-phone, and e-reader."
Wu Shulin, vice minister of General Admin. of Press and Publications, said, "Digitalization is like the wheels of history. We must catch up with this trend. And it will boost the development of Chinese publishing. We are at a fortunate period, in which the new technologies will spread knowledge efficiently, whereas traditional paperback still locks their own customers."
As publishers eagerly embrace this trend, officials hope that the transition, rather than a painful process, will stimulate the growth of both markets, which in turn will substantiate the grand development of the Chinese publishing industry.
Editor:Liu Fang |Source: CNTV.CN