Watch Video
Play Video
Imagine the most iconic landmarks of China -- the Great Wall, the Forbidden City -- all coming to life right before your eyes.
Well, at the ongoing Beijing International Book Fair, a set of pop-up books is helping make that unlikely dream come true.
Entitled "China Pop-up", this set of books is taking the lion's share of attention at the booth of the Anhui Publishing Group.
A reader said, "We can learn the production process of the Terracotta warriors. It's taken the form of kids' book. So it's very special. I like this one very much. The middle of the book can be turned over and over with the use of strings."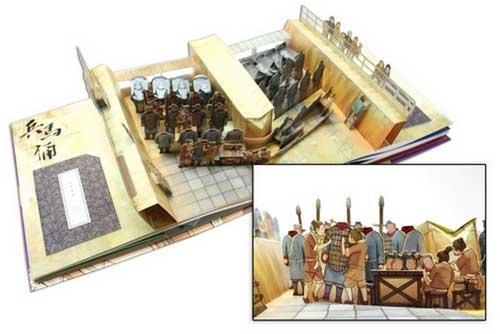 This set of books selected six Chinese symbols as its subject matter like Terracotta
warriors
One casual turn of the first page and you see the Great Wall rise up before your eyes. It presents the panoramic view of the Chinese symbol of strength and determination as well as its varied landscapes during the four seasons.
This set of books selected six Chinese symbols as its subject matter: the Great Wall, Terracotta warriors, ancient astronomical equipment, Dunhuang Grottoes, the Forbidden City, and the Bird's Nest.
A joint effort by Huangshan Publishing House and Joint Publishing Hong Kong, each set of books are hand-made and took more than one year to design and publish.
Jiang Yichang, Huangshan Publishing House, said, "Today, many readers have shown their interests in such books. And many foreign publishing institutions have also shown strong intent to publish such books."
China has a long tradition for pop-up books. The paper lantern of the Song Dynasty and the folding fan are all the primitive forms of this art. In the modern era, most of the pop-up books are for kids. With the emergence of this set, the publishers hope to touch off more people's interests in pop-up books.
Related stories