Watch Video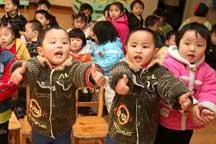 Play Video
After four months running, the national children's singing competition has come to an end in Beijing, but the wonderful songs and music still linger in the air.
One of the ideas growing out of the event is to sing China's Tang poems. The movement has given great inspiration to those who compose songs for children.
Excerpts from well-known poems of Li Bai, one of China's greatest poets, are perfectly blended with music of the 21st century. As these children sing, it's how they find pictures and songs in the ancient poems.
"Reading Poems of Tang Dynasty" is a golden award winner of the 2007 national composing competition for children's song. Winning again at this year's nationwide children's singing competition, the song will be collected in an album which contains another 20 pieces inspired by the famous ancient poems.
Renowned veteran composer Gu Jianfen says there's no better way to attract the younger generation than through singing, especially when asking them to memorize the legacy of their ancestors.
Gu Jianfen, composer, said, "When we recorded the song, we discovered how involved the children were. Their sincere feelings and true thoughts let us learn the innocence of young hearts. For me, nothing is more precious than this."
Singing is also one great way for those young minds to sing out their gratitude to their parents, teachers and those who care for them. Those kinds of songs have taken a big slice of the winning pieces at this year's competition.
Editor:Liu Fang |Source: CNTV.CN