Watch Video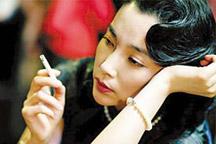 Play Video
Light up a cigarette and blow a mouthful smoke... everyone must be accustomed to these kinds of shots on the movie screen. But fortunately, Chinese cinema goers and TV viewers will soon be spared those uncomfortable images as a new regulation has been issued.
The Chinese Association on Tobacco Control is appealing to all filmmakers and TV production companies to avoid making scenes that involve cigarette smoking. The Association says entertainers should be more socially responsible, and present "clean and healthy" productions to the public.
Recently, the State Administration of Radio, Film and Television published a regulation for film management to use when considering future screenplays. The regulation suggests that camera shots that exaggerate drinking, smoking, and other corrupt habits should be cut. The administration also stressed that the supervision of TV and film will be strengthened.
Directors expressed their ardent support for the new rule.
Gao Xixi, Director, said, "There are many ways to tell a story or portray a character. We don't have to involve smoking in our productions. I think every director is able to handle it and make the industry more healthy and decrease the negative influence to the public."
Cigarettes, tobacco cases, smoke filled rooms, cigarette ad's or a tobacco company logo are all forbidden.
The Chinese Association on Tobacco Control carried out a survey on the smoking scenes of 2009 box office top 40 domestic films and the 30 best selling TV dramas.
Only nine of the 40 films are free of tobacco, and a total of 524 shots involve smoking. The longest shot lasts 4 minutes.
The results from TV dramas are even worse. More than 90 percent of the dramas have the prohibited shots. And the locations includes people at the office, at home, on a school campus or in vehicles.
Editor:Yang Jie |Source: CNTV.CN