Watch Video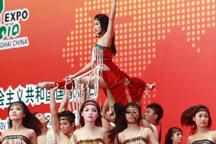 Play Video
Vietnam is celebrating its 1000th anniversary of the establishment of its capital city of Hanoi this year, and that is the focus of the Vietnam Pavilion at the Shanghai World Expo. Today's Hanoi, in its fast-paced development as a modern urban city, is confronting environmental protection issues that need to be addressed for the city to become better. As Vietnam celebrates its National Pavilion Day on Thursday, let's visit the venue to discover more about Vietnam and its people.
Traditional Vietnamese song and dance performances are of course a must on such a festive occasion. Artists from Vietnam spice things up with their distinguished choreography, backed by flowing folk tunes.
The facade of the Vietnam Pavilion, which covers an area of 1000 square meters, is made from bamboo. After the expo, all the bamboo construction materials will be recycled for social welfare facilities.
With no high tech displays or gimmicks, the Vietnam Pavilion offers spectators a scene of quiescence in a comfortable way. Clusters of bamboo, bound and tightened by strands of ropes, make up the arched crossbeams of the pavilion. And lotuses in the artificial pond speak to the serene environment of the pavilion.
There's no better way to fully display the beauty of the Vietnamese women than the national costume of Ao Dai that they wear. Ao Dai is a unique traditional silk tunic commonly worn by Vietnamese women. A complete set of hand-made Ao Dai usually takes more than twenty procedures to finish. In the past the Ao Dai was only needed on big occasions like wedding ceremonies and year-end celebrations, but nowadays the traditional costume is common to every household in their daily lives.
Apart from the traditional attire, Vietnam also boasts a distinguished art form of water puppetry. Visitors to the Vietnam Pavilion are captivated by the legends and myths told by the puppet characters, with the aid of controllers' dexterous hands juggling an arsenal of weaponry and batons.
It is said that the art of water puppetry dates back to the tenth century when it originated in the Red River Delta area of northern Vietnam. Over the years different village farmers have developed their own personal water puppetry plays to mark certain battles or events.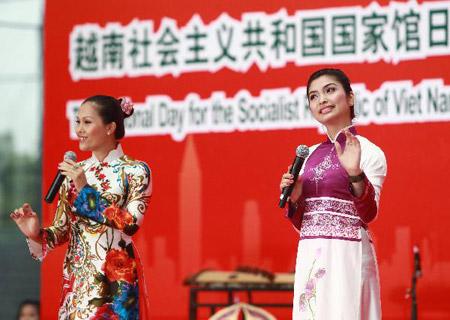 Singers perform during a ceremony marking the National Pavilion Day for Vietnam
at the 2010 World Expo in Shanghai, east China, Sept. 2 , 2010. (Xinhua/Ren Long)
The art of water puppetry has proved popular with the locals. It provides a panoramic view of the lifestyle of everyday people, and reflects social innuendos in various aspects.
Editor:Zheng Limin |Source: CNTV