Watch Video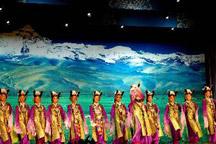 Play Video
The heavenly mysterious and indigenous aspects of Tibetan culture are rolling down from the high plateau and settling in on the eastern metropolis of Shanghai as the World Expo hosts "Tibet Week." The special event, which kicked off on Wednesday and runs until Sunday, will show off the region's intangible cultural heritage items to visitors from around the world.
With the theme "Heaven in Tibet," the festival was opened with performances of traditional songs and dances. Tibetan Opera will be presented, as well as presentations of perhaps the world's longest oral epic of singing and storytelling, "King Gesar," which is listed as a UNESCO Intangible Culture Heritage item.
Veteran Tibetan diva Tsedang Dolma, in her 70s, performed part of her repertoire. Almost 400 singers and dancers will take part in the performances.
Apart from the vibrant stage art, exhibitions of intangible Tibetan culture and street shows are also highly anticipated throughout the week. Thangka, a Tibetan painting style using silk and with embroidery depicting Buddhist deities and other Buddhist scenes, are visitors' must sees.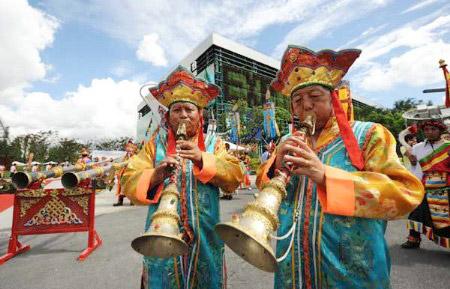 "Tibet Week," the special event, which kicked off on Wednesday and runs until
Sunday.
Biandor is a state cultural heritage follower, and this tapestry took him six months to make. He says he was dedicated to sewing the Bund view of Shanghai and a temple in Tibet on the carpet to deliver a message of friendship between the Tibet autonomous region and Shanghai.
Tibetan carvings, medicine, sports, food and other intangible cultural heritage items are also on display.
Related stories