Watch Video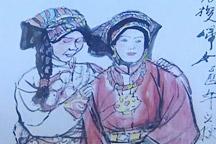 Play Video
Some art treasures get around more than others. For instance, one painting from China has been carried by the Shenzhou Six Spaceship into outer space. Now that same painting is being exhibited at the World Artifacts Exhibition in Expo Park in Shanghai. Let's zoom in and take a closer look.
This ink painting scroll went on an astronavigation mission in 2005. It was carried by the manned spacecraft Shenzhou Six to roam through space, and then return to Earth with the spaceship.
The ninety-six meter long work was jointly created by 168 established Chinese painters. It is composed of three themed parts which are "beautiful landscapes", "people's reunion" and "the garden of a hundred of flowers." As a whole, the piece is entitled "Ode to Shenzhou."
Staff member said, "The painting is fifty-six centimeters tall. And it soared into space when the People's Republic of China celebrated its 56th anniversary of its founding. China has fifty-six ethnic groups. So the painting bears a lot of fifty-six."
"Ode to Shenzhou" also created a soaring price on the auction market when it sold for 72-million yuan, or more than 10 million US dollars. The insurance price for the painting at the expo exhibition, is over 200 million yuan, or 28 million US dollars.
Related stories
Editor:Zheng Limin |Source: CNTV