Watch Video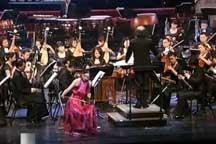 Play Video
Starting late August, the state-owned art troupes and theaters of China are putting on a month-long series of stage performances to celebrate the country's cultural achievements. Taking the stage Wednesday night at the National Center for the Performing Arts was the China National Orchestra.
Entitled "My Country Is So Beautiful", the two-hour concert consisted of 11 masterpieces of Chinese folk numbers, such as "Why the Flowers Are So Red", and "Moon Reflected on Two Springs." And a Mongolian folk tune rendered by the traditional horse-head stringed instrument of the Mongolian ethnic group transported the packed house to the vast Mongolian grassland, where horse racing is taking place.
The concert was under the baton of celebrated conductor Chen Xieyang, who's no stranger to western works. His effective direction added glamour to the traditional folk tune concert.
And Chen's effort was amplified by the employment of western musical instruments. The night also featured a piece called "The Flowerbed of Chrysanthemum", in which a cello collaborated with Er Hu, two-stringed Chinese fiddle, for the sentimental song, a bold attempt to extend musical boundaries.
Editor:Zheng Limin |Source: CNTV