Watch Video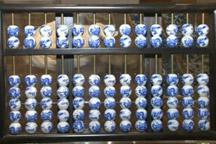 Play Video
A major exhibition of Chinese historical and cultural relics are currently on tour in the UK. Entitled "China: Journey to the East," it is the largest ever collection of Chinese relics organized by the British Museum. Let's visit the York Art Gallery, where the show is currently, and take a closer look.
Exhibits include more than 100 remarkable objects from the British Museum, and are complemented by artifacts from the York Museum's Trust collections and York's Chinese communities.
China has always played a central part in the British Museum's collection. Five themes are used to explore the three thousand years of Chinese history and culture - Technology, Leisure, Food, Festivals, and Language and Writing.
The exhibition presents key enduring Chinese inventions such as the abacus, the compass, and silk and porcelain manufacturing. Objects will provide insight into the three main Chinese belief systems, that is, Daoism, Buddhism, and Confucianism.
It took the British Museum and other galleries and museums around the UK to arrange this significant circuit. Daily utensils are top choices of exhibitions, in purposes of showcasing a lively ancient scene of China and helping local visitors understand the far-east civilization more easily.
A total of six venues were chosen to host this unique tour. The exhibition will be available in York until Sunday and then travel to Manchester and Leeds.
Editor:Zheng Limin |Source: CNTV