Watch Video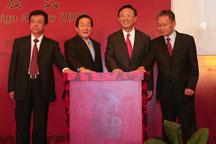 Play Video
One-year of China's foreign policy activities are consolidated into a photo album. "China's Foreign Affairs 2009" was launched with a ceremony at the Ministry of Foreign Affairs in Beijing on Friday morning. Let's take a peak at what the diplomats have been up to.
As the saying goes, "A picture is worth a thousand words." The photo album records China's foreign affairs in the past year with vivid images and detailed captions.
The images capture China's diplomatic vision, foreign policy, and external relations, and reflect China's commitment to the path of peaceful development and the win-win strategy of opening up.
The publishers say the album has laid out China's diplomatic activities in a vivid, memorable, and comprehensive way.
Le Yucheng, Director General of Policy Planning Dept., Min. of Foreign Affairs,said, "Some of the photos have never been shown to the public before. They were shot by our diplomats in some instances, journalists were prohibited at some diplomatic events. Some of them come courtesy of the military. So, the album should be very informative and enlightening."
Foreign Minister Yang Jiechi, attended the ceremony to unveil the photo album.
He also presented copies of the album to the foreign diplomats in China, different Chinese ministries as well as major cultural institutions.
Yang said that 2009 was an extraordinarily busy year for Chinese leaders and the Foreign Ministry. Chinese leaders appeared at virtually all world summits, be it the G20 summits in London and Pittsburgh, the UN climate change summit in Copenhagen, or the 17th APEC meeting in Singapore.
2009 was also the year when many of the major, pressing items in the global agenda demanded urgent attention by world leaders simultaneously. The financial crisis and the climate change debate are but two examples.
The Chinese Foreign Minister also said that since the inaugural issue of "China's Foreign Affairs" last year, the album has played a positive and unique role in increasing public understanding at home and abroad, of China's diplomatic activities and policies, as well as promoting mutual trust and friendly cooperation between China and the rest of the world.
Editor:Zhang Pengfei |Source: CNTV.CN