Watch Video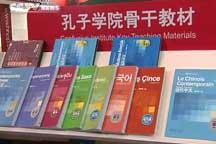 Play Video
The ongoing 17th Beijing International Book Fair has set up an Chinese International Teaching Resource Exhibition Area for the first time. The new section enables visitors to enjoy various textbooks for learning Chinese.
As studying the Chinese language becomes increasingly popular, there's a growing demand for textbooks. In order to satisfy the market, the National Office for Teaching Chinese as a Foreign Language decided to establish the special exhibition.
Liu Bing, Deputy Director, Nat'l Office for Teaching Chinese as Foreign Lang., said, "Hundreds of famous publications are gathered here. I believe it's an excellent way to communicate and cooperate, especially with regard to developing teaching resources."
There are four exhibition areas including a Confucius College Exhibition Area... and a Chinese Culture Experiencing Area that showcases classical textbooks of learning Chinese. Also a series of culture activities are being held to catch the eyes of visitors.
Liu Bing, said, "Visitors are coming in droves for newly-released textbooks and products. Many foreign friends as well as foreign publications have expressed their strong willingness to cooperate."
According to data released by the National Office for Teaching Chinese as a Foreign Language, there are now over 40-million Chinese language learners around the world, providing a giant market for Chinese textbooks.
Editor:Zhang Pengfei |Source: CNTV.CN