Watch Video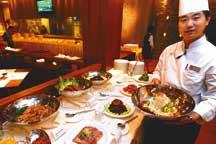 Play Video
The Mainland Cha-She(大陆茶社) restaurant, which has a history dating back 200 years is coming to Taiwan to open its first branch outside Chinese mainland. 70 million Taiwan dollars, or about 2.3 million US dollars, is being invested to set up the branch. It is the first franchise in this industry to have its investment come entirely from the Mainland and be opened in Taiwan. Special traditional dishes provide people in Taiwan an opportunity to feast.
Opening dishes are called "Red Mansion Banquet". It consists of eight dishes that highlight the chefs splendid carving skills. "Peacock opening its feathers","Swan" and "Cranes in Plate" are an eyeful. All the food is prepared with care. Before you start dining, waiters provide cultural and historical stories. A "Red Mansion Banquet" cost every one five-thousand Taiwan dollars,or about 150 US dollars. One dish from the banquet is really worth mentioning --"Soup Meat Dumplings". Every process of making it needs special care, such as rolling the dumpling skin. When the dish is brought to the table, you can see the dumpling skin is almost transparent, its thickness is paper thin. The soup seems to flow inside the dumpling skin. The dishes are a YangZhou tradition.
The setting and decoration of the Cha-She restaurant also keeps with traditional styles.
Editor:Zheng Limin |Source: CNTV