Watch Video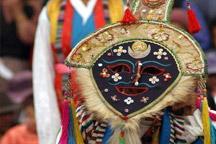 Play Video
In fact, Tibet Autonomous Region initiated a heritage protection project in 2005. At that time, the central and local government earmarked 40-million yuan into rescue and renovation, and the result has been bountiful.
Tibetan opera dates back more than 600 years, about 400 years older than Peking Opera. The performing art features vivid face masks, earthy dancing, unvarnished singing and colorful costumes. It's been regarded as a living fossil of Tibet. Xueba Lamu Folk Art Troupe now features more than 40 performers, ranging in age from 18 to 70.
The central government has stepped up preservation of Tibetan opera since 2005 and has since spent 10 million yuan to shore up village troupes and publish books and videos.
Tibetan joss stick maker Nema Tsering has been in the trade for over twenty years. His workshop is located in Lhasa, capital of Tibet.
Nema Tsering, Tibetan Joss Stick Maker, said, "The craft of making Tibetan joss sticks is 1,300 years old. Thirty-two herbs are selected and made through five procedures."
Tibetan paper making is also improving. The papers are now insect-proof, resilient and erosion free. The technique is being written into a book for further generations.
Tibet now has sixty national and 222 regional intangible cultural heritage items, and fifty-three national and 134 regional inheritors. Sixteen items were inscribed into the third batch of National Intangible Cultural Heritage List this year.
Related stories
Editor:Yang Jie |Source: CNTV.CN