Watch Video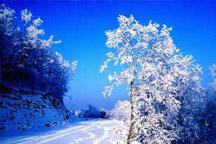 Play Video
The Danxia landform is a prominent feature in different provinces across China and was recently listed by UNESCO as a World Natural Heritage. On the heals of that listing, another forty historical sites and natural resorts in China are planning to apply for the same recognition. But whether or not such a listing would bring benefits to the local economy still remains to be seen.
The Wudalianchi National Park, meaning the Five Interconnected Parks, is located in Northeast China's Heilongjiang Province. It is a topographical miracle wrought by an age-old erupting volcanic mountain.
The Wudalianchi National Park is applying for the World Natural Heritage this year. An investment of one-billion yuan, or more than a hundred-million US dollars is needed for the first phase of the application.
He Baoshun, Director of Wudalianchi National Park, said, "I think to apply the park to the list of the world natural heritages will help promote the site not only in China, but also around the world. And of course the application will definitely boost the local economy."
Statistics show that the annual ticket sales of the Pingyao Ancient City have seen a remarkable growth of sixty times since it was inscribed in the world natural heritage list in 1997.
And the same happened in Lijiang, the hottest tourist destination in Yunnan Province. So far, the revenue of the local tourism industry counts more than fifty percent of the local GDP.
The Wudalianchi National Park boasts a well-preserved natural water resource, which contains more than twenty micro elements and minerals, luring countless tourists every year. Sources wishing to remain anonymous say that a construction complex dedicated to mineral water manufacture and associated producing companies will be established in 2011.
The local government is consciously aware that over exploitation will only lead the local economy to a dead end. In order to better protect the water system of the park, protective measures seem necessary including returning the grain plots around the area to forestry.
And the more than ten-thousand households living around the neighborhood will have to be relocated in the near future.
Experts urge that the large amount of investment on the world heritage inscription of Wudalianchi National Park be spent where it is mostly needed.
Editor:Yang Jie |Source: CNTV.CN